10 Reasons why Canada is an Awesome place to Live.
10 Reasons why Canada is an Awesome place to Live.
Canada is a perfect country to live and work. It provides a conducive environment required for bringing up responsible children. There are a number of benefits the country has which makes it an awesome place to be The include the following. Here are 10 of our favourites.
10.Niagara Falls
This natural feature is mesmerizing. Indeed all students who did geography knows Canada because of the Niagara Falls.
9.Our Tap Water Rocks
Canada has vast water bodies. The lakes and rivers are fresh and sparkling. The federal and state Government have harnessed this natural resource to provide quality water to all it citizen. With the long-term health effect of bottled water, natural water is the best alternative. This is provided cheaply and in abundant in Canada leading to quality living standards. As the saying goes, water is life.
8. Santa Claus Is a Canadian
The Santa myth is claimed by many countries. However, officially, Santa is a Canadian. This documented proof of his citizenry was made by the then Minister of Immigration – Jason Kenney – in 2010.
7. Canada Has less Gravity
Due to its location, the Northern part of Canada has a very low gravitational pull. If you happen to visit the Hudson Bay area, you are likely to experience a little floatation. As such, you will weigh less than your actual weight. So instead of going on a stringent diet plan, just settle in one of the cities near Hudson Bay and – bang – you are slim.
6. High literacy Rate
The proportion of Canadian who possess college degree is 51%. This is according to the statistics out of a study done by the Organization for Economic Cooperation and Development's (OECD). This makes Canada amongst the highly educated countries in the world.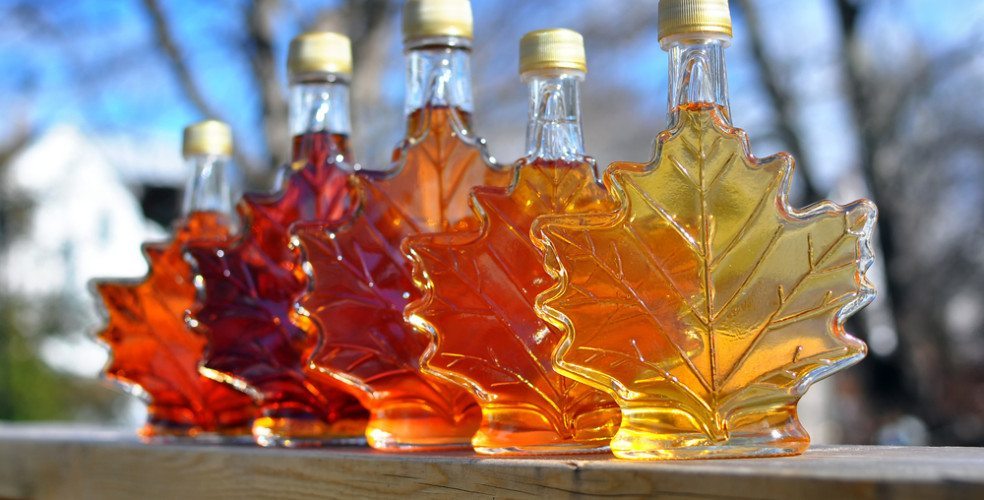 5. Maple Syrup Reserve
The Maple leaf is the official emblem of the Canadian flag. Maple is a very rare syrup. According to the Federation of Maple Syrup Producers, they have a stockpile of over 220,000 barrels of the sweet-scented nectar in their strategic reserve. Just in case you need to have a taste of it. It is believed that Canada has the highest quantity of this nectar in the world.
4.Cleaner Air 
We all love the smell and feel of fresh breeze. The vast Canadian wilderness provides this and much more. It has peaks ideal for sledging, skating, skiing and other ice sports. While enjoying the glide down vale, the nice big breath of fresh, clean air on a summer morning and winter afternoon is simply invigorating. Unless other polluted cities, Canada has been very strict with its air quality. Though it comes free, maintaining good air quality cost much financially. An air quality study done 5 years ago confirmed that most parts of Canada have excellent air. Indeed, it has one city Whitehorse which has entered the Guinness Book of World record for having the least amount of contaminants its air. So while other countries are chocking in foul air, Canadians are breathing more fresh air.
3.Outdoor sites
Canada is fortunate to be host countless beautiful outdoor sceneries and attractive sites. When it gets hot, there are millions of natural lakes and rivers to cool off in. Canada has over 3 million lakes of different sizes. In could be having the highest concentration of fresh water bodies in the world. Other sceneries include the Banff national Park located in Alberta's rocky mountains, the CN Towers in downtown Toronto. This is a 550 m eatery with a revolving glass facade offering spectacular scenery. The Canada Wonderland is another attraction mainly meant to impress the young ones. All family amusements can be enjoyed here. Canada has protected its natural plants. There are trees more than 800 years old which can be sighted during your visit to any of the many national parks. Canada boasts several cultural locations including the Canadian War Museum and the Basicilca of the Notre-Dome located in Montreal.
2.Health Care
Canada has one of the best health care services in the world. Health care is essential for the wellbeing of the citizenry. However, it's a fairly expensive undertaking. Canada's determination has made it be one of the very few countries offering universal health care services to all this citizen. In case you have been sick and resorted not to visit a medical facilities due to lack of funding, know that Canada is the best in health care service provision. There you can visit a hospital for a complex procedure and walk out without parting with a penny. This makes it an awesome place to live in.
1.Poutine
If you have even enjoyed your plate of poutine, then know that you are a Canadian by heart. This meal is a traditional Canadian delicacy. Poutine is prepared using gravy, cheese curds and fries. You can throw some piece of meat on it. It can also be prepared using egg and whatever else your imagination feeds you. Poutines are available everywhere in Canada, you just have to select the ideal place to sample it.
Apart from poutine, there are other delicacies like sweets and deserts, which are uniquely Canadian. The favourite snack is the Ketchup chips from Lay's. You have to eat it to comprehend its uniqueness. The initial name – being a mixture of ketchup with chips- may be put-off. When tasted, they will give a valid reason to consider Canada as an awesome place to be. Plus chocolate smarties are tantalizing. There are several varieties to choose from, which includes Timbits and double-double from Timmies. These are sumptuous on a cold December morning. Other include of course the maple syrup. Others include the hard bacon served with marble syrup, butter tartar – shortbread pastry shells served with maple syrup and beaver tails, which is essentially pastry designed by beavers tail and topped with cream and berries. Even President Obama crossed the border to have a taste.
[/column]